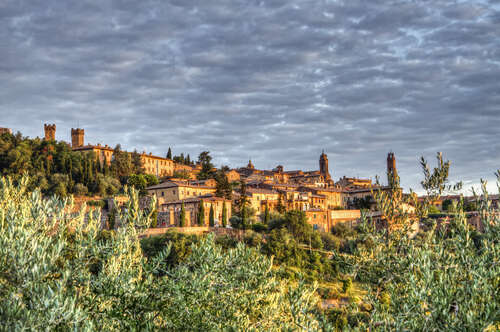 Each quarter, The World of Fine Wine conducts extensive tastings of the finest wines in a given region or stylistic set. In one of three tastings featured in the most recent issue of our print magazine— WFW72 — three members of our internationally respected tasting panel, Stephen Brook, Andrew Jefford, and Michael Palij MW, were profoundly impressed by 2016 Brunello di Montalcino, a vintage that has the edge on its much-hyped predecessor, with consistently more aromatic and finely structured wines.
Here we publish Michael Pailj MW's in-depth introduction to the tasting—and the three tasters' notes on the top five highest-scoring wines. For scores and detailed notes on all 54 wines included in the tasting, subscribe to The World of Fine Wine .
Any wine student will tell you that accurate detection of levels of acidity and tannin in a red wine is a challenge. Wines with high levels of both, including Sangiovese, therefore over-index on structure and can appear lean in their youth unless there is sufficient fruit to provide balance. Hot vintages can provide generosity via alcohol and concentration but often at the expense of both balance and elegance. Hence the considerable interest in 2016 Brunello di Montalcino, which Andrew Jefford summarized as "a vintage of great grace, vivacity, and freshness."
Two very different five-star vintages
The consorzio awarded the vintage five stars (as it did in 2015), but 2015 and 2016 are very different years, much to the consternation of consumers searching for binary simplicity in a region as sprawling and heterogenous as Montalcino. This tasting demonstrated that 2016 has the measure of 2015, with wines that are consistently more aromatic and finely structured, notwithstanding the significant disparity in style that is a hallmark of this appellation.
As Stephen Brook noted, "The wines were highly consistent, and almost all of them scored highly, showing, at least to me, that stylistic variation was compatible with fine quality." Andrew Jefford expands: "Some 2016s, especially from the northern parts of the DOCG, were super-sculpted and plungingly incisive, with acidity clearly having the upper hand over tannin as principal structuring factor; I never noted this in 2015."
Having tasted the exceptionally beguiling 2016s, and in defense of the hype surrounding 2015, the latter must be seen in the context of 2014, a positively arctic year in Montalcino, with some of the lowest average summer temperatures of the past 50 years. Producers therefore pounced on the hot (too hot, many would argue) 2015s and declared their greatness prematurely. Looking at 2016 alongside 2015, however, the meteorological data confirms that 2016 was a much more temperate vintage.
2015 was drier (January to April 2015, 257mm [10 inches] v January to April 2016, 400mm [15 inches]), and the wet spring in 2016 furnished the vines with ample water reserves—something that was missing in 2015. July 2015 saw temperatures soar above 104°F (40°C) with exceptionally warm nights (minimum average temperature 73°F [23°C]), which caused some vines to shut down. By contrast, peak temperatures in July 2016 were in line with long-term averages, but—crucially—the minimum average was fully 12.5°F (7°C) lower than in 2015, which helped preserve acidity. August 2016 was a decidedly cooler month than in 2015, with lower-than-average maximums of 79–85°F (26–28°C) and a huge nocturnal shift, with minimums of 59–61°F (15–16°C), falling in some cases as low as 53 ° F (12 ° C)
The climatic trends then reversed in the autumn. 2015 witnessed a cool and damp September, which delayed ripening, while in 2016 the sun finally came out and average temperatures in the first two weeks were above 86°F (30°C). For 2015, this heralded a much-needed break from matters solar, but in 2016 it was the giddy-up that brought the year to a glorious close. There was precipitation in September 2016, but things brightened by the 20th, before many growers would have reached for their secateurs. Even so, the harvest commenced in both years between September 15 and 20, in vineyards near Sant'Angelo in Colle/Scalo, in the warmer part of the DOCG overlooking the Orcia Valley.
In summary, the key climatic features of 2016 were ample ground-water reserves, moderate summer maximums, high levels of day/night temperature variation, and a warm, dry autumn. These combined to encourage ripening, packing on aromatic precursors while keeping the acidity levels buoyant. Given this, one would expect to see serried ranks of taut, racy reds showcasing the very best of Sangiovese's legendary tannins and acidity framing cool red fruit aromatics and discreet oak. In general, this was the case, and scores were high.
A first-class strike rate
I scored 34 wines 91 or above. Andrew Jefford recorded 28 in the same range, and Stephen Brook 37. With 54 wines on parade, this is a first-class strike rate and speaks to the broad appeal of both the vintage and the wide range of styles on display, something that all tasters noted.
Montalcino is a famously disparate DOCG, with 3,600ha (8,900 acres) of vineyards scattered throughout a region eight times that size. Altitudes range from 400ft (120m) above sea level, to more than 1,750ft (600m). Soils comprise compacted sandstone ( galestro ), clay, marl, and sand. There is direct maritime influence via the Orcia, and yet Monte Amiata looms nearby at more than 5,570ft (1,700m).
It is little wonder that flavor, oak, acidity, and alcohol levels within Montalcino vary enormously, so defining an archetype is problematic. Looking at the top-scoring wines—Il Marroneto, Piancornello, Talenti, and Il Fornace—it would be tricky to link winemaking, quality, or style to a geographical subregion. Having said that, many critics believe the DOCG would benefit from some geographical subdivision; and perhaps an MGA system similar to that seen in Barolo would help focus the mind of consumers on the natural variations in terroir.
Of oak and alcohol
Many writers have commented on the inexorable rise of alcohol levels in fine wine, and Brunello is no exception, even in a cooler vintage such as 2016. In this tasting, however, alcohol did not appear to rob the wines of either finesse or structure. Some of my highest-scoring wines tipped the scales at 14.5% ABV, and one at 15% scored 97; neither was characterized by stewed, jammy, or baked characteristics. Andrew Jefford shared this feeling: "The 2016 is very much a riposte to the general view that contemporary fine wines carry too much flesh and lack freshness and vivacity." Stephen Brook agreed: "There were few burly, extracted wines, while a degree of power and force is perfectly acceptable within the Brunello spectrum. But to achieve the right balance, winemakers needed to have full ripeness while retaining freshness. By and large, they succeeded." High levels of alcohol, it appears, are now firmly part of the norm of fine wine.
Of more significant concern, however, was the use of oak. In common with Piemonte, the pendulum in Montalcino has swung decisively away from new barriques in favor of botti , tonneaux , and even maturation in wooden fermentation tini . Those wines that had seen new French oak tended to be angular, with a needling, austere finish. Sangiovese seldom needs the tannic cavalry to ride to its rescue, particularly in a sculpted vintage such as 2016, where delicacy and complexity ought to be the headliners.
2016 is a vintage to buy with confidence. It is reminiscent of 2014 or 1997, with ample scaffolding by way of tannins and acidity to support the often finely chiseled fruit. Brunello often disappoints in its ability to age—and there are no guarantees, even in this vintage—but there is little downside, since many of these wines are already giving enormous pleasure.
The Top 5: The best of 2016 Brunello di Montalcino
Talenti Brunello di Montalcino (14.5% ABV)
SB | This is at once both lush and leathery on the nose, but the ripe cherry fruit still comes through. Opulent and broad, this also has heft and power, with forceful tannins that seem a touch extracted. There's a burliness here that slightly upsets the balance and purity, but nonetheless this is an imposing and concentrated wine with great vigor and energy. Structured and a touch grippy, but with good length and staying power. | 93
AJ | Classic clear deep garnet. Settled and refined, very serene, with pristine, polished, burnished red fruits over a savory baseline of some refinement, too. It doesn't shout, but there is spot-on classicism here. Smooth, soft, open, mellow dark plum fruits, with soft supporting tannins and a cascade of ripe yet refreshing acidity. As the aroma suggested, this is a wine of unfussy and unaffected classicism, so deft and urbane that it is easy to underestimate. Excellent raw materials handled with great sensitivity. | 91
MP | Clean, elegant, delicate; plenty of red and back fruit finely etched with notes of red and black cherry, citrus peel, blackberry, and plum. The most sensationally integrated tannins and acidity conspire to create an archetypal example of Brunello. The length is phenomenal, with layers of ripe tannins and concentrated fruit vying with the acidity for attention. It unfolds gracefully on the palate, bringing out the very best of Sangiovese without recourse to an overlay of new oak. It is neither showy nor overblown, rather exceptionally finely chiseled. | 100
La Fornace Brunello di Montalcino Origini (14.5% ABV)
SB | The nose shows some opulence, with cherry and cassis aromas, and it's fully ripe. Plump and fleshy, this is also very concentrated, supported by bold and assertive tannins. It hasn't fully come together yet, but the weight of fruit is impressive. There's breadth and swagger here rather than finesse, but it's still a hedonistic and imposing mouthful. Long. | 94
AJ | Darker than many of its peers, though translucent and glowing. Some oak evident here, though the sunlight-on-timber quality fits well with the broad-beamed fruit. Ambitious and mouth-filling, though just a little sinewy for the time being. The oak sugars the fruit, as well as stiffening it, but the fruit is in the driving seat, and I don't doubt it will marry down gratifyingly with time. Great wealth of flavor in this structured, ambitious wine; perfect ripeness, too. | 92
MP | The nose is dominated by tertiary notes of cedar, leather, wet leaves, forest floor, and incense. On the palate, this is round and powerful, showing notes of tar, cedar, candle wax, and tobacco. The lingering finish comprises oak, fruit, and structural integrity, including firm tannins and bright acidity. There is intensity of fruit and plenty of stuffing to ensure that it ages gracefully. | 95
Il Marroneto Brunello di Montalcino Madonna delle Grazie (14% ABV)
SB | The nose has forthright cherry aromas and a hint of menthol, and it's direct and pungent. Rich and firm, this has density and weight and ample structure. Admirable concentration contributes to its force and energy, but it doesn't seem extracted or assertive. Perhaps on the burly side, but one accepts a certain ruggedness in Brunello. Long, with good potential. | 93
AJ | Deep, glowing garnet red. Blackcurrant and raspberry fruits, here, with hints of lemon thyme and rue behind. Where the garden ends and the forest margin begins: fresh and zesty. Smooth and pure-fruited, very cool and fresh and pristine—early morning between the garden and the forest edge. Quite grippy tannins combine with the cool, fresh acidity to give a frankly zesty mouthful: no one could complain of overripeness here. Yet there's no underripeness either. Fascinating wine that underscores the diversity of contemporary Brunello. | 92
MP | Beautiful nose with the telltale red fruit of cool Montalcino including redcurrant, pomegranate, strawberry, plum, and cherry sidling up to baking spice, cedar, and coffee grinds. The fruit powers home in the mouth providing what has often been lacking: a foil for the oak. The concentration in this wine lifts it above many in the field, making it suitable for drinking from 2028 onward. A great effort even in the context of 2016. | 97
Pian Cornello Brunello di Montalcino (15% ABV)
SB | There's a charming sucrosity on the ripe-cherry nose, but it's not jammy or overblown. Full-bodied and fleshy, this is concentrated and sturdy, with somewhat overbearing tannins and a good whack of alcohol that's a bit excessive as it disturbs the balance of the wine and deprives it of elegance. Long bold finish, with a hint of tarriness. | 91
AJ | Light, clear, and translucent garnet-red. Warm, lifted, and resonant: dry grasses, warm attics, summer haylofts. Refined and floatily appealing, though I don't detect much fruit pulse on the nose. Pure, close-grained, intricate, and vital palate, and actually in the tasting you do find ample fruits. It's still on the lighter and more aerial side, and the ripeness takes it through to the sweeter end of the spectrum, but this is a super-charming, wonderfully drinkable wine, with sustaining acidity and perfectly judged, shaping tannins. A valued member of the choir! And a Brunello reference to note. Just a little dry and strenuous, but super concentration. | 92
MP | Fabulous nose, with ripe red-fruit aromas, cedar, strawberry, raspberry, tangerine, pomegranate, hay, crème brûlée, and fireplace. In the mouth, this is expansive, exceptionally long, balanced, and highly expressive of Sangiovese from Montalcino. The finish combines all the tannin and acidity one rightfully expects with generous fruit and a complex, layered panoply of fruit flavors. Stunning without being showy. | 99
Il Poggione Brunello di Montalcino (14.5% ABV)
SB | There's a welcome sucrosity on the nose, despite the lack of aromatic exuberance. This is clearly ripe if undemonstrative. The palate shows a fine silkiness that evens out the tannins, which are present but not assertive. There's a fine elegance here rather than power or muscularity, and the freshness and balance should give it aging potential. Long. | 92
AJ | Dark black-red. Translucent, but ample pigment here to draw on. Sweet-toned, with lots of classy confit cherry and a little soft unlit pipe tobacco, too. Moist, heady, and promising. Deep, grippy, almost a touch stewy: a very concentrated (and we assume ambitious) wine, and one with time ahead of it. I'd love to look at this again in a full five years: It's a five-fathom wine for now, brimful of good things, but a little temporal sorting will bring dividends. The super depth and concentration could take it up further later; hugely exuberant and very rewarding. | 93
MP | Attractive nose, with notes of modeling clay, sweet spice, black cherry and plum, cedar, licorice, and tobacco, also showing concentration and intensity. The palate is ripe and fat, with attractive tannins and layers of discreet oak including cedar, toffee, caramel, and sawdust. The finish is long and complete, with the fruit and oak working together seamlessly to create a wine of real impact. Difficult to fault this. | 98