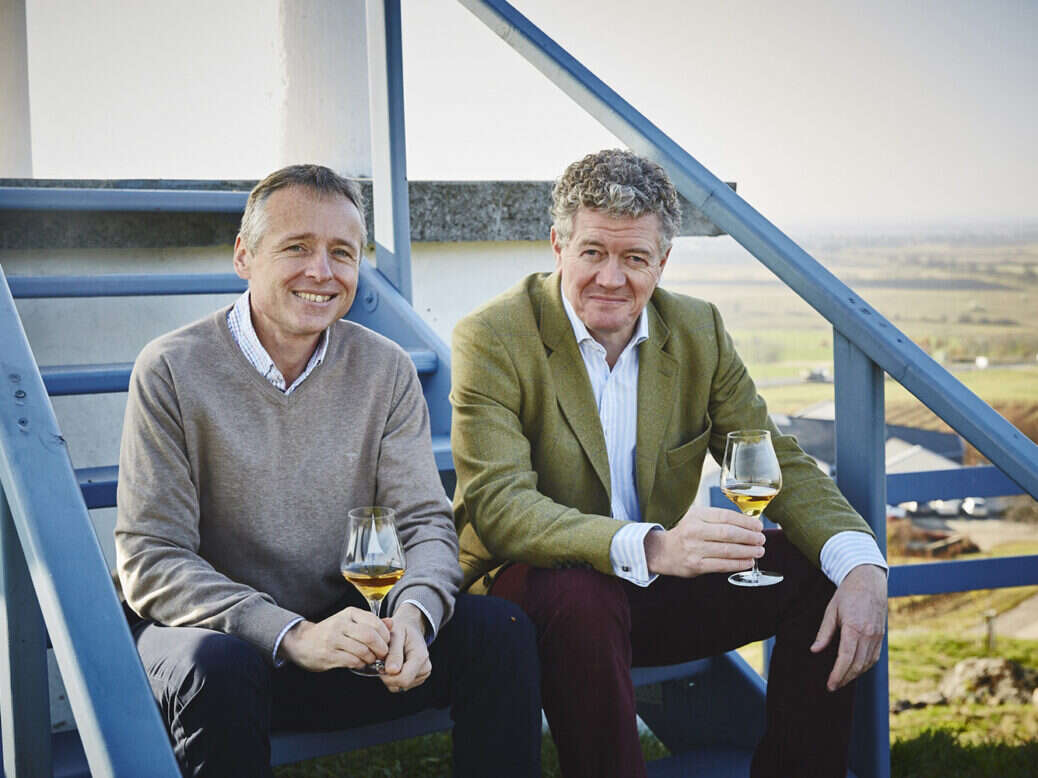 A tasting of luminous sweet wines (plus an impressive dry bottling) from the AXA Millésimes-owned Tokaj estate Disznókő was testament to the rigor and sheer hard work required to produce them, says an enchanted Simon Field MW.
"In the communist era, even the grapes were considered as equals."
So says the director of Disznókő, László Mészáros, who has come to 67 Pall Mall in London to show his range of (predominantly) sweet wines. Also present is Christian Seely , who runs AXA Millésimes, which also owns Quinta do Noval and Pichon Baron inter alia.
Christian talks of the "creative flurry" that followed his arrival at AXA in the early '90s and then his quest to find someone to manage the Tokaj property, made all the more pressing with the departure of Zoltan Kovács to The Royal Tokaji Wine Company .
Enter László, described by Christian as "astonishingly youthful and inexperienced" (the former attribute persists) and the beginning of a golden age, in every sense. László has now assumed the additional role of technical consultant to all the properties in the AXA portfolio.
After 40 years of state farming and communist mismanagement, vineyards and wineries alike were in need of attention.
Their parlous state did not, however, prevent the likes of AXA, Royal Tokaji, and Vega-Sicilia (Oremus) from investing. The texture of history was far too enticing to be derailed by such a blip; here, after all, were vineyards that have been classified in the 18th century and historical estates that produced the sweetest of all wines, Essencia; yes, that one, Louis XV's "king of wines and wine of kings." And of poets, and philosophers. And you and I, we wish.
Disznókő: A place and a company
Disznókő the place was, indeed, one of the "named" villages in the 1732 classification, but Disznókő the company has not followed quite the same route as Royal Tokaji, who major in single-vineyard releases.
Disznókő is a contiguous 112ha (277-acre) estate, and thus far the only single vineyard to gain autonomous accreditation is Kapi, with its particular strain of volcanic terroir and, as a result, a distinctive style of wine. Otherwise, the range majors on the 5 and 6 puttonyos, and we are invited to experience diversity most poignantly through vintage variation.
Tokaj is a relatively small wine region, its 5,500ha (13,600 acres) located in the northeast of Hungary, in the foothills of the Carpathians. To the north and east lies Slovakia and, running through this World Heritage site, the rivers Bodrog and Tisza, which foster ideal conditions for botrytis .
There is not that much by way of altitude, although at 450–820ft (135–250m), the majority of the vineyards still command the Great Hungarian Plain to the west. The climate is firmly in the continental camp, and the soils are dominated by clay on volcanic rhyolite tuff , which is rich in silica.
The Disznókő cellars are carved into this relatively soft rock, their 1,000 or so Aszú barrels aged here against a humid backdrop of black mold.
Some 70 percent of the Disznókő range is devoted to sweet wines and 30 percent to the increasingly popular dry styles. Coincidentally, the Furmint grape also comprises 70 percent of the vineyard (it's nearer 60 percent in Tokaj overall), with the balance made up of the aromatic Hárslevelű, a cross known as Zeta, and also, in minute volumes, Yellow Muscat, Kabar, and Koverszolo.
László is excited by the development of the dry wines; Furmint, for him, has something of the structure of a Chardonnay and, despite a higher innate level of acidity, can be very wood-friendly.
The sweet wines are the calling card, however. Changes in the rules in 2013 meant that labeling by puttonyos (meaning "baskets" or "buckets," itself a delightful anachronism) was no longer obligatory, though still widely used, but actively prohibited for wines that had previously been labeled as 3 or 4 putts.
In practical terms, the wine must have more than 120g/l sugar to be a de facto 5 putts, and 150g/l for 6 putts.
The Essencia, which drips slowly under the force of gravity from the free-run juice of the resting Aszú berries, will have anything between 500 and 900 g of sugar per liter—far too many potential buckets of residual sugar to trouble even the puttonyos system.
Puttonyos or no puttonyos, botrytis is king here, and the very specific meteorological conditions dictate vintage variation; in the top years (2017 or 2013, say), the grapes are completely shriveled, raisin-like, and impossible to press.
These grapes, collectively known as Aszú, are vinified on their skins by way of maceration with a fermenting or fermented base wine (non-Aszú), the ratio of Aszú to base wine dictating the resulting sweetness.
A rule of thumb is that if the volume of Aszú mirrors the volume of base wine, this will end up as a 5-puttonyos wine; therefore for 6 putts, the Aszú grapes are in the majority. There can be stirring and pumping-over during the initial period of maceration—it models red-wine vinification, in other words, with extraction of polyphenols and even tannins informing flavor and texture.
Thereafter, pressing and then aging, set at a minimum of 18 months in oak barrel. The majority of the barrels at Disznókő have a capacity of 225 liters and are made in Hungary.
Where botrytis has been less pronounced, and potential sweetness thus less impressive, the wines fall into the late-harvest or Szamorodni category. It really is a question of degree but is worthy of note that the vinification is different and, in this instance, follows a more traditional white-wine template.
Disznókő has two late-harvest wines: a generic wine and the 1413 Tokaji Edes Szamorodni, the date referring to the first documentation relating to their vineyard. László will not be drawn as to the split between late-harvest and Aszú; it all depends on the vintage, he maintains, quite reasonably, though he comments elsewhere that even in a top year only between 5 and 10 percent of the grapes will be sufficiently raisined to merit Aszú status.
The intense labor involved is common to both strands, however. There is no real substitute for the back-breaking selection process; multiple pickings (aka tris ) are required, with, each time, only the most unprepossessing shriveled and desiccated grapes deemed worthy of selection.
Three or four tris , sometimes more, are required to do the job properly, and even a highly experienced picker will be happy with 22lb (10kg) of grapes notched up during the course of a day.
The fruits of these labors, almost Sisyphean in their rigor, are laid out for us today: a splendid luminous spectacle; a cloth of gold.
The wines of
Disznókő
Disznókő Dry Furmint 2020
Served at lunch, this was a revelation. Stainless steel, then two months of lees contact. A pale lemon color, with spring flowers and a hint of pear on the nose. There is a firm backbone of flinty acidity and pleasant mid-palate weight. More than a match for the roasted king scallops. | 90
Disznókő Tokaji Aszú 5 Puttonyos 2017
(12.3% ABV; 160.2g/l)
An outstanding vintage. The Aszú component here is 80/20 Furmint and Zeta, and was aged for two years. An almost luminous gold bodes well, as do the aromas, dominated by both tropical and stone fruits; a hint of quince, too. Botrytis dominates on the palate, its more indulgent tendencies held in check at every turn by the elegant thread of acidity. | 93
Disznókő Tokaji Aszú 5 Puttonyos 2016
(12.5% ABV; 158g/l)
A cooler year than 2017, with higher acidity levels (10.2g/l TA in 2016 versus 7.6g/l in 2017). In addition, there is a significant amount of Hársevelű in the Aszú component, itself unusual, and lending aromatic complexity. Of deep gold hue and with appreciable viscosity. The 2016 is singing at the moment, its complexity underlined by notes of woodsmoke and iodine, malt and soft spice added to the canon. A beautiful tension on the palate confirms all the best suspicions. | 94
Disznókő Tokaji Aszú 5 Puttonyos 2015
(12% ABV; 150g/l)
2015 was very hot and dry and bequeathed two distinctive types of Aszú, depending on whether the grapes were picked in early September or late October, when the rains finally arrived. This is in the latter category and, despite the relatively low acidity (6.92g/l), does not want for freshness or aromatic purity. It is a little atypical, however, with sandalwood, sweet pomegranate, and toffee. Thereafter, the wine is maybe just a little syrupy for all its tropical generosity. | 90
Disznókő Tokaji Aszú 5 Puttonyos 2014
(12% ABV; 156g/l)
A cooler year, with almost one third of the crop lost to the pernicious Drosophila fruit fly. There was significant botrytis but also a need for selection, therefore selective selectivity! This one was aged for only 18 months yet still boasts a rich, deep golden color and aromatics of bergamot and orange peel. The palate brings in candy apple and a hint of burned sugar; it seems a little dysfunctional next to some of its siblings. | 88
Disznókő Tokaji Aszú 5 Puttonyos 2013
(12% ABV; 156g/l)
A celebrated vintage in terms of both quality and quantity, with more Aszú grapes harvested than in any of the previous 20 years. The wine has a medium-gold hue and powerful aromatics of a citric persuasion. On the palate, it seems a little mute, maybe traversing a "dumb show"—and it is notes of dried apricot, nutmeg, and tobacco that stand out. I suspect that this one will reawaken, refreshed, a couple of years hence. | 91–92
Disznókő Tokaji Aszú 5 Puttonyos 2012
(12% ABV; 138g/l)
A warm vintage, temperamentally similar to 2015. Late September rain ensured a lot of botrytis, so much so that it was decided to macerate the Aszú grapes in the finished rather than the still-fermenting base wine, presumably in the name of stability. A deep gold, with a distinctive smoky perfume, behind it pineapple and quince. On the palate, there is just a hint of bruised apple. | 90
Disznókő Tokaji Aszú 5 Puttonyos 2011
(13% ABV; 147g/l)
Described by László as a "miracle" vintage, 2011 initially seemed to favor passerillage styles unencumbered by intense botrytis. Indeed, this wine is more overtly winey than some, by which I mean that the relatively modest botrytis levels have allowed the innate wine to share a vinous complexity, strewn with a catalog of floral and fruit epithets. This is 100% Furmint and was aged, unusually, for two and a half years in oak. | 93
Disznókő Tokaji Aszú 5 Puttonyos 2010
(12% ABV; 134g/l)
A cooler year in the vein of 2010 and 2014, marked by summer floods. A deep gold color, flirting viscously with the glass. The nose recalls marmalade, Asian spice, and barley sugar. Some of the cooler years invite the most outlandish descriptions—overcompensation, maybe, on the part of the winemaker and taster alike. The finish is strong and restorative, however. | 89
Disznókő Tokaji Aszú 6 Puttonyos 2002
(12.5% ABV; 160g/l)
Served with the cheese at lunch and working just as well with soft as with hard styles, with blue cheese, too. A reminder of both the power and the versatility of a 6 puttonyos Tokaji, with a near-amber color, rich and exotic scents, and a beautifully leavened tropical palate. | 91
Disznókő Tokaji Aszú 6 Puttonyos 2000
(13% ABV; 162g/l)
An outstanding vintage, 2000 was very warm, with the grapes ripening early but acidity preserved, and complexity augmented by the addition of 25% of the Zeta grape to the Furmint in the Aszú component. Amber-gold color, with an attractive perfume of Asian spice, apple crumble, and barley sugar. Structurally, one almost senses tannin, such is the intensity of flavor. Razor-sharp acidity seals the package deftly. | 94
Disznókő Tokaji Aszú 6 Puttonyos 1999
(11.5% ABV; 160g/l)
A reference year in the region, 1999 vanquished the ghosts of communist compromise once and for all. This is a magnificent statement of the Aszú method, spice, fruit, acid, and texture all entwined in petrified tension. Its sweetness is so finely ingrained that the wine almost seems dry, its enigmatic brilliance thus preserved. | 95
Disznókő Kapi Vineyard Tokaji Aszú 6 Puttonyos 2015
(11% ABV; 187g/l)
Disznókő is probably grateful that the name of this single vineyard is easy to pronounce, not that this was the reason for its selection. Located on the relatively higher southern slopes of the estate, the plot has a distinctive gravel and clay soil, tends to open early and is usually blessed with plenty of Aszú grapes, all of them Furmint. This separate bottling only takes place when there is a discernible difference from the "standard" 6 putts; this one certainly stands out for its evocative, smoky nose and wonderfully complex palate, with pear and pineapple fruit vying with hints of quince and mandarin. Notable sweetness is held in check and, when served again at lunch, proved to be more than a match for the sticky date pudding! | 93
Disznókő Kapi Vineyard Tokaji Aszú
6 Puttonyos 2011 (12% ABV; 164g/l)
László advises that sometimes the Kapi is made in vintages that are not, in point of fact, marked by significant botrytis, the aim being to demonstrate the terroir in its full unencumbered glory. The 2011 is such a wine and succeeds admirably, the juxtaposition of crystallized fruit and a savory, almost umami weight to the palate very finely rendered. | 93
Disznókő Kapi Vineyard Tokaji Aszú 6 Puttonyos 2005
(12% ABV; 165g/l)
Late picking secured an impressive quota of alcohol but, in this instance, did not seem to jeopardize the acidity, which, at 10.7g/l, just edges into double digits. This is a powerful and seductive wine, with an amber color and confident tropical aromatic, hints of spice (nutmeg), and honey behind it. The palate maintains the positive impression, confirmed beyond all doubt by the purity of the finish. | 94