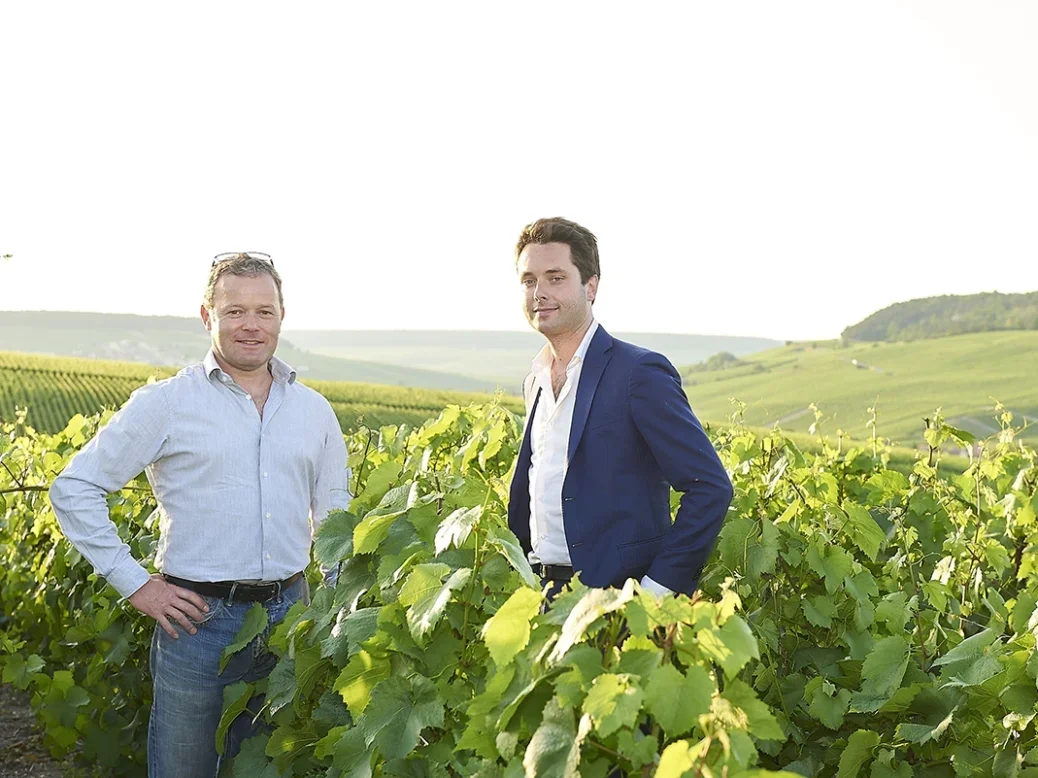 Joanna Simon enjoys the latest releases from Frèrejean Frères , an impressive young Champagne house run by three members of the extended Taittinger family.
Apparently Claude Taittinger used to say that it took 20 years to create a Champagne house . Frèrejean Frères was founded in 2005—"So, we're getting there," says CEO Rodolphe Frèrejean Taittinger, great-nephew of the late Claude.
The "we" are Rodolphe and his brothers Guillaume, who is in charge of operations including the buying of vineyards, and Richard, based in and taking care of the important US market. The "we" also take in chef de cave Didier Pierson, a fifth-generation Champagne-maker of more than 30 years' experience who was part of the inspiration for Frèrejean Frères to become more than just a Champagne produced for friends and family. He was born, raised, and lives in Avize in the heart of the Côte des Blancs , the village where Frèrejean Frères is based and has some of its vineyards. As some readers will know, he is also a consultant to English vineyards.
I feel sure there must be some readers, interested in military history, for whom the Frèrejean name is familiar. For those for whom it isn't, Frèrejean Frères was a long line of cannon-makers who supplied the French army in the Napoleonic Wars (and learned much of their expertise in England). Another Frèrejean ancestor, Gavriil Golovkine, was personal assistant and master of ceremonies to Peter the Great. None of this has a bearing on the Champagne, of course, except perhaps context and color.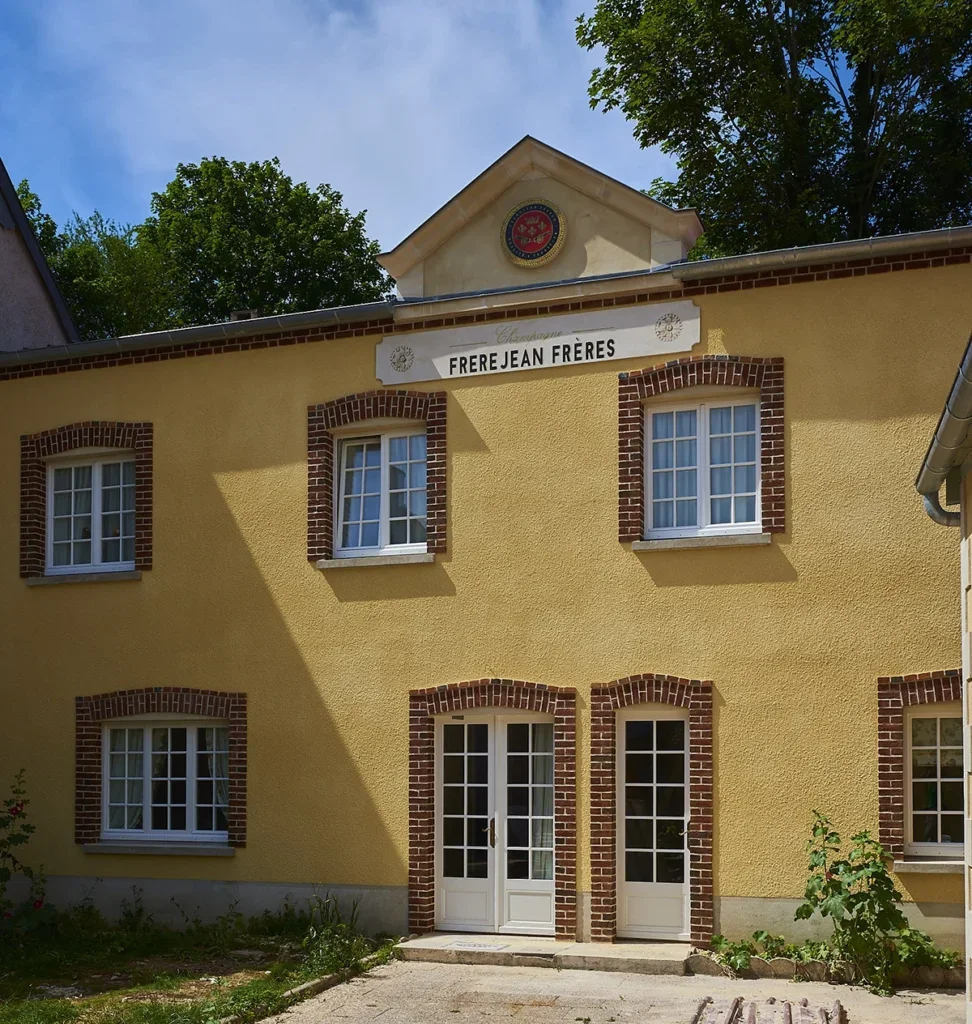 Back to the subject in hand. Anyone who knows the 21st-century history of Taittinger will recognize the year 2005 as the one when the Taittinger family sold its Champagne brand and hotels to the private-equity company Starwood (before Pierre-Emmanuel Taittinger successfully bought back all of the Champagne). One outcome was that the three young Frèrejean-Taittinger brothers (Rodolphe was then 19) found themselves with some "beautiful" Côte des Blancs vines.
That same year, inspired by meeting Didier Pierson, who was then selling most of his grapes to the likes of Bollinger and Pol Roger, they decided to create a new Champagne house, producing high-quality, artisanal, terroir-driven Champagnes, with Didier at the helm. In Rodolphe's words, "He is a chef de cave with the vision of a wine grower."
They now own 6ha (15 acres), mainly Chardonnay in the heart of the Côte des Blancs (Avize, Cramant, Oger, Grauves, Chouilly, and Le Mesnil-sur-Oger). They also have a little Chardonnay in Aÿ. Their Pinot Noir vineyards are in Ambonnay , Bouzy, Aÿ (including an organic plot bought last year), and Vertus, and although theirs is a Chardonnay-driven house, Didier wants to buy more Montagne de Reims Pinot Noir, especially in Ambonnay. He cultivates traditionally, and the aim is to be all organic by 2030, according to Rodolphe.
The Grauves holdings on the other side of the Avize hill, which previously belonged to Didier's family, are interesting because, when he was a child, and even 20 years ago, he says, they were frequently caught by last frosts—but not anymore. They have another 6ha in supply, from most of the same villages, and currently produce about 150,000 bottles a year. The goal is 300,000.
They stress that there is no formula, no rules. Didier is not trying to replicate each cuvée year after year. But points of interest in terms of production include using old enamel tanks (40 to 50 years old), even for the reserve wines. Didier thinks "metal isn't good for wine" and uses stainless-steel tanks only briefly straight after fermentation when the enamel tanks are cleaned. His grandfather used old enamel tanks, and Didier is "absolutely convinced they make a difference." It's not easy to find them and they have to be reenameled from time to time, but there's an old family firm in Epernay still doing it. Some of the big houses are now going back to enamel, he adds.
He has also come around to his grandparents' view regarding the connection between the wines and the growth of the vines: "I believe that the wine is still connected to the plants. [It] changes a lot in April and May. The wine increasingly expresses—follows—the growth of the plants." As a result, he bottles relatively late, between late June and early July, as his family did.
All wines go through 100 percent malolactic and reserve wines account for between 30 percent and 50 percent of each cuvée, but they are not solera-type perpetual reserves, as in some cellars in Avize. All cuvées are aged between six and eight years on lees. Sulfite levels are low.
Dosage levels are also lowish (3–7.75g/l, except for the rosé at 9.7g/l). Oddly, in the current era of greater openness and transparency in Champagne , Frèrejean Frères say they "prefer not to communicate on [ dosage ] as we want to keep our 'secret ingredient' to ourselves." Apart from this quirk and some surprising food-pairing ideas (of which more in the notes), I have only good things to say about this new kid on the Champagne block.
Tasting Frèrejean Frères
The Champagnes were tasted over a 12-hour period in October 2022, mostly in the cellars, including with dinner, but also in the Avize vineyard and on Eurostar. I have disgorgement dates for the range but haven't necessarily given them because they disgorge in batches, and it wasn't always clear that I had the date for the batch of the one I tasted. The important point is that all cuvées are aged in the cellars for a minimum of six years.
Champagne Frèrejean Frères Premier Cru Extra Brut
A new cuvée: the previous Extra Brut was Vintage. This is 50% Chardonnay, 50% Pinot Noir from the Côte des Blancs, the Pinot Noir from Grauves and Vertus. (In forthcoming cuvées, it will also come from Ambonnay and then from Aÿ, too, from their recently bought organic vineyard.) Base wine: 2015, to which "a healthy chunk of 2014 and perhaps a little 2013" was added, according to Tom Harrow who works with the house. Disgorged 2021. Dosage 3g/l.
Pale straw. Floral, orchard, and warm pâtisserie aromas, followed by crystallized lemon and peach. The palate opens with appetite-whetting freshness and salinity then fans out into richer, bready, evolved notes and fine, pure fruit—sweet lemon, mirabelle plum, and white peach. Long, slender, and airy, but displaying the flesh of the 2015 vintage base at the same time. The dosage is perfectly pitched; you know it's there, but you don't notice it at all, making for harmony without a scintilla of austerity. | 92
Champagne Frèrejean Frères Premier Cru Brut
Like the Extra Brut, this is 50/50 Chardonnay/
Pinot Noir and 30% reserve wines, but Didier Pierson sees this as more Chardonnay in style and the Extra Brut as more Pinot Noir in style. "We always try to get some old reserve wines into the blend because that's what gives elegance," he says. The dosage is below 6g/l.
Slightly deeper color than the Extra Brut, with honeyed tarte tatin, peach, and crème pâtissière drifting over a soft umami hum. Creamy textured and rounded on the palate, with an elegant, soft mousse and touches of brioche, stem ginger, and toasted walnut carrying it through to a clean, tapering fresh finish. | 91
Champagne Frèrejean Frères Premier Cru Blanc de Blancs Brut
Chardonnay from Cramant, Avize, and Premier Cru Grauves. 50% base wine (2012) and 50% reserve wines from 2008 and 2009. (The current release is based on 2013, with 50% reserve wines from 2010, 2011, and 2012.) Dosage below 8g/l. The reserve-wine component is operatic, giving opulence, creamy depth, and pashmina texture to the fruit. The fruit, meanwhile, heads toward the tropical but is neatly reined in by crisp candied-citrus and by oyster-shell minerality and sleek acidity that together give structure. Very attractive. | 93
Champagne Frèrejean Frères Rosé NV
60% Chardonnay with 40% Pinot Noir, 14% vinified as red. Didier says that what he likes about blended rosé is being able to "work the color quite precisely." And it's clear from the deep pink hue that he likes color in his rosé. The nose is every bit as dramatic, with bright, juicy strawberry aromas of almost piercing intensity complemented by a wave of just-baked brioche. The palate mirrors the nose, adding a silky texture, a sliver of toast, and a little steeliness. It's a wine of presence and compressed power, but also precision and length—and although dry, this is not as dry as the rest of the range. Cellared for three or four years, it will develop some more complex notes and could be served with duck, perhaps with a light blackberry and Port sauce, but describing it as "best served with a chocolate dessert" seems odd, and it was sabotaged for me at dinner by the stracciatella mint mousse with chocolate with which it was served. | 91
Champagne Frèrejean Frères VV 26 Grand Cru
All Chardonnay, 90% Cramant from a plot planted in 1926 and another aged 60 years, both very low-yielding, 10% from Avize and Oger. It's the second cuvée of VV26 and is based on 2008 and 2009; tête de cuvée only; seven months in used Argonne oak casks before bottling. Disgorged in early 2019; sealed with an agrafe and aged in the cellars for a further two years. Oak and agrafe are a Pierson family blanc de blancs tradition. Only 8,000 bottles.
Deep straw color, and gentle, fine bubbles. A powerful nose: oxidative, honeyed, toasted bread and a hint of pain d'épices around a core of perfumed mirabelle and Seville orange marmalade, the latter giving both zing and an attractive nip of bitterness on the palate. Vinous, savory, rich, intense, concentrated, complex, long. Even so, it wasn't quite up to duck stuffed with foie gras. | 94
Champagne Frèrejean Frères 2012 Cuvée des Hussards
Hussards is made only in top vintages. The first three (2005, 2007, and 2008) were blanc de blancs from Cramant, Avize, Grauves, and Chouilly; the 2012 includes 15% Pinot Noir—from Vertus. Tête de cuvée only. It's also markedly lower in dosage . Didier does the dosage tasting blind and was surprised to find that he had chosen 3.5g/l. Previously, it has been 8g/l.
Much paler than the VV26, with lively, fine bubbles and an equally expressive but very different nose, notably spicy, with Jersey cream, too, but overlaid with pretty floral, peach, and lemon notes, followed by raspberry and blueberry. The palate is succulent, deep, almost compressed, yet silky and refined. Hard to convey, other than to say deeply textural and at the same time elegant. Given time in the glass, spices reemerge, including cinnamon, together with apple confit and umami seaweed. Wonderful interplay between development and complexity on the one hand, and freshness and energy on the other. | 96–97
Champagne Frèrejean Frères 2008 Deep Water Aged Cuvée des Hussards
The idea of aging a limited number of bottles under water was to arrest the maturation, to keep the aromas that they loved in this 2008 blanc de blancs after it had been eight years on its lees (disgorged in 2017). Having done a successful trial in 2016, sinking 24 bottles 200ft (60m) down off the coast of Normandy for a year in water temperatures of 50–57°F (10–14°C) and 7 bar of pressure, they sank a larger batch in summer 2020, retrieving the bottles 12 months later and releasing them in November 2022. There were only two bottles available for a large number of tasters, so it was a tiny taste, but enough for me to be struck by the freshness and intensity, the saline minerality, seaweed, and roast-almond notes, the white grapefruit and confit-lemon fruit, the sustained satin texture, and the crystalline acidity. | 95