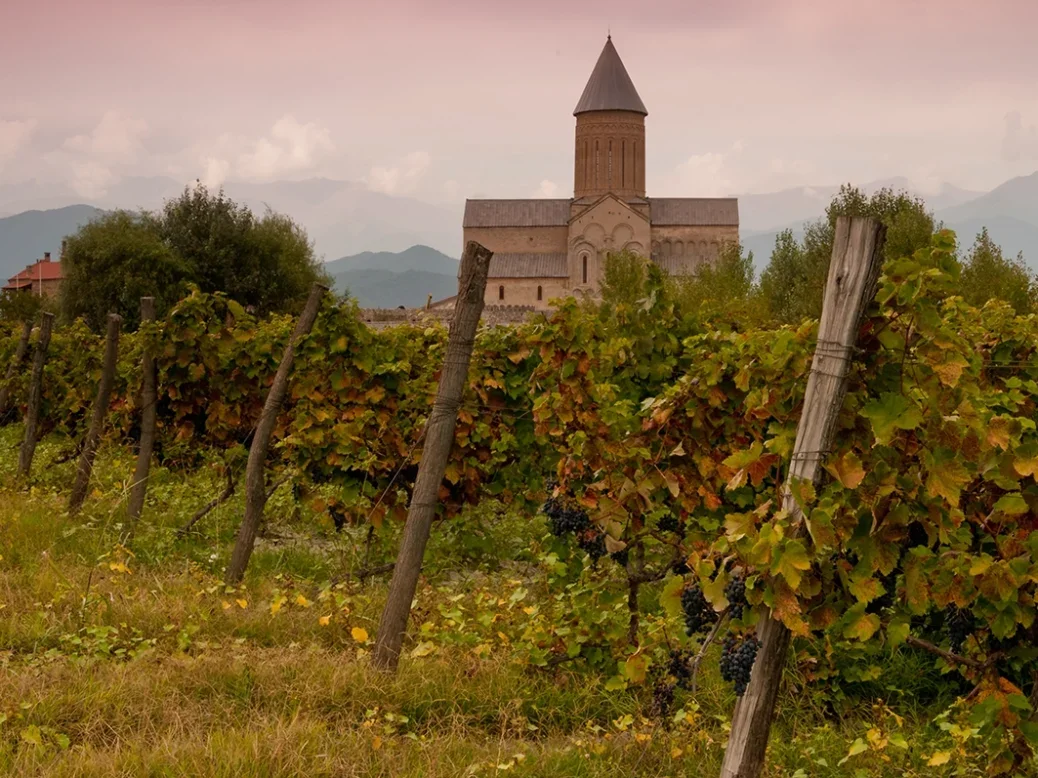 Georgian wine is best known for the qvevri clay pots used by some of its most celebrated producers. But the array of fascinating, utterly distinctive indigenous Georgian grape varieties also deserve much wider renown, says Jim Clarke.
Thanks to local geography, Georgia has been relatively isolated for millennia—a condition that has lent many unique traits to its wines. The one most apparent to wine drinkers, especially those who appreciate white wines, are the qvevri —clay amphora, set into the earth, wherein Georgians have traditionally fermented their wines. White wines as well as reds are fermented on their skins, creating deeply colored "amber" wines with a depth of flavor and tannins, even in the whites. As a technique, however, it largely obscures another unique aspect of the country's vinous story: the grapes.
"I call the qvevri the great equalizer," says Lisa Granik , a Master of Wine and author of The Wines of Georgia . "The wines taste not of the qvevri per se, but of the qvevri process, rather than using the qvevri to enhance the characteristics of the grape, or even the grape in its terroir." Granik compares it to the way new oak barrels can overwhelm the character of a grape in conventional Western winemaking.
525 Georgian grape varieties
Thanks again to the country's isolation, there are an estimated 525 indigenous Georgian grape varieties, so there is a great deal that could be explored. Many, however, are more often found in surveys than bottles. Diversity shrank post-phylloxera, a process that only accelerated during the Soviet period; disease resistance and yields became the priority, largely destined at the time for sparkling and semi-sweet wines. Today about 75 percent of the vineyards are planted to white grapes, and most of that is Rkatsiteli. Saperavi dominates among the reds, and both are particularly prevalent in the hotter, eastern regions of Kakheti and Kartli, which are much more densely planted than the regions closer to the Black Sea.
But other varieties persisted in family vineyards and out-of-the-way corners, and several programs, perhaps most notably the LEPL Scientific Research Centre of Agriculture in Jighuara, are working to propagate a greater diversity of vines. Granik says the urge to recover and expand the varieties planted stems from an interest in biodiversity as well as an expanded range of offerings.
Beyond the qvevri , the names of Georgian grape varieties stand in the way of greater recognition abroad, and not just because of their extraordinary density of consonants. Certain names recur in different variations across the country. There are, for example, six different varieties of Mstvane, none related to each other, and each named for the region where it was first recognized. "At this stage," says Rezi Tsetskhladze of Vazisubani Estate, "the varieties most known in America are the ones most planted in Georgia: Rkatsiteli, Mtsvane, Kisi, Khikhvi, and Saperavi from eastern Georgia, and Tsolikouri and Tsitska from Western Georgia."
Field blends would have been typical for most small, family producers, and certain combinations are becoming typical: Rkatsiteli and Mstvane, or Tsitska and Tsolikouri, for example. So while many of the wines reaching export markets are varietally labeled, wine drinkers exploring more closely will encounter a number of blends that also make it harder to isolate and understand the character of individual varieties.
"For me, Kakhuri Mtsvane [Mtsvane from Kakheti] is an exciting grape variety," Tsetskhladze says. "It has an outstanding potential to adapt to different winemaking technologies, such as white winemaking technology and skin contact for amber wine. It gives aromatic, structured and full wines. It has a very good aging potential."
Despite their almost total domination of exports, qvevri wines make up only five percent of Georgia's wine production, so the chance to explore the character of these grapes is out there. Among the qvevri wines, some varieties show themselves more forcefully than others.
"Rkatsiteli is super malleable because it's subtle," says Christy Canterbury, Master of Wine and Georgian Wine Ambassador in the U.S. "It's not aromatically dynamic, so the qvevri does a lot to give it texture, aroma, color, etc. It's like Chardonnay in that it's more susceptible to the whims of the winemaker. Whereas Kisi says, 'you're not messing with me.' It retains its identity, it's exotic—much more tropical, with riper flavors that stand up to qvevri a little bit more. And then Mtsvane has citrus and herbal notes on top and a similar body to Rkatsiteli."
Among reds, as a teinturier grape Saperavi makes a powerful, dark, tannic wine, but some other varieties yield much different styles of wine. "Saperavi is mostly found in Kakheti and Kartli," Canterbury says, "but once you get west of Kartli you tend to get varieties that do better in cooler and wetter environments." Among these Canterbury singles out Aleksandrouli and Aladasturi, comparing them to pale, cool-climate Pinot Noir, and then for contrast, Delchavi "which is amped up on everything: dense, chunky, gamey, chewy."
Ancient beginnings
Even if these are still unfamiliar names, Georgia's indigenous varieties received some extra attention in March when Science magazine published a study revealing that, although Georgia has been archaeologically associated with the earliest beginnings of winemaking, the Caucasus region shares the birth of winegrapes in the form of Vitis vinifera with the Levant.
Furthermore, thanks to Georgia's isolation, the latter seems to be the source of the world's most planted grape varieties—all the familiar names we know from France, Italy, and so forth. "That means the grape varieties that were in the Caucasus stayed there," Granik says. "And that to me is more interesting, because it means these varieties are ancient, and have adapted and developed to their very different terroirs. And that just highlights their uniqueness, right?"