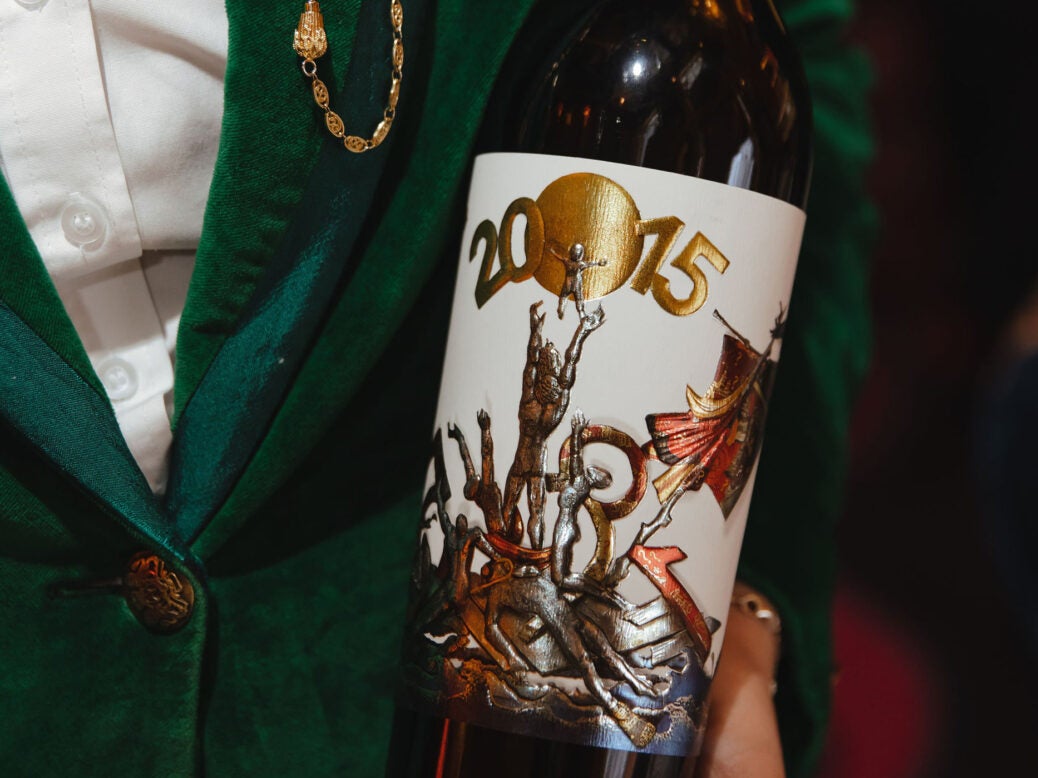 Liber Pater is the most expensive wine in the world. Simon Field MW attends a rare London tasting to ascertain why.
W hat is the most expensive wine in the world? A vulgar question perhaps, and a moving target. Le Pin, maybe, Domaine de la Romanée-Conti , possibly, or how about Screaming Eagle ?
Few will answer, confidently, why it's Liber Pater, and by a country mile. Few, indeed, will have heard of Liber Pater, its name redolent of an eccentric campaign to liberate an aristocratic patriarch whimsically, but hardly inscribed in the collective psyche of those wines that are famous, above all, for their price tag.
A cursory glance at Wine Searcher, however, proves that whereas we will need to fork out three or four thousand pounds for a bottle of Pin or Petrus , the tag on a bottle of Liber Pater 2015 is a far from unimpressive £36,000. For a bottle. Can this be correct?! Impressive, surely, but maybe just a gimmick, a one off, a triumph of marketing over common sense?
The stories behind Liber Pater
Winemaker Loïc Pasquet has come to Annabel's in London to persuade us otherwise. In the gilded plush of the far-from-humble Matteo's dining room, he beguiles his audience with a Cartesian exposition of the cultural history of his wine, combined, with magnificent flair, with an emotional cri de coeur of self-justification; justification by faith, if you like.
Forget the plateau of Pomerol when you can have the ancient soils of Ladiras in the Graves (just above Sauternes ), he tells us, and don't be bamboozled by the hegemony of Cabernet Sauvignon and Merlot when you can savor the complexities of Lauzet and Prunelard.
Never heard of those grape varieties? Well, you should have done, he implores; they were prevalent in the area at the time of the 1855 Classification; they were grown in pre-phylloxera soils, unblemished by the anonymity of American rootstocks and the like.
And so on and so on. If this is snake oil, it certainly doesn't taste too bad, even if it doesn't exactly recall the great wines of Pessac-Léognan , or even the less well known labels of the Graves. It tastes different, in other words. An unassuming Vin de France, so says the tin.
Pasquet pursued engineering studies in Dijon but was soon side-tracked by the world of fine wine, and most specifically by a desire to (re)discover the ancient autochthonous grape varieties of pre-phylloxera Bordeaux, such as Castet, Pardotte, Tarnay, Petite Vidure, Mancin, Camaralet, and Saint-Macaire (he has "exhumed" 14 in total!).
His mentor is the Savoyard Michel Grigard, who was instrumental in bringing back Mondeuse, Altesse, and Jacquère to the Alpine vineyards. Loïc became evangelical about doing similar things in Bordeaux and identified the small commune of Ladiras with its "magnificent gravel outcrop" and excellent drainage, and a "cocktail of sandy topsoil" which would, he affirms, provide and have provided excellent protection for the pre-phylloxera vineyards.
Pasquet tells us that Ladiras was the home of the niece of Michel de Montaigne, Jeanne de Lestronac, who founded the Sister of the Company of Mary and was canonized by Pope Pius XII. Her nephew, appropriately enough, was a famous skeptic …
Offending the authorities
Be that as it may, Pasquet's zeal has not gone down very well with the authorities. Not only the "wrong" grape varieties, but also the wrong plant densities (30,000 or, even latterly 20,000, plants per hectare is far too high, they say), the wrong yields, the wrong pruning (Arcure), the wrong trellising and spacing.
Everything was wrong, and a mere demotion to a Vin de France was but the start of the problems. From his first vintage in 2005, Loïc periodically fell foul of both the INAO and the Bordelais authorities, low points including a conviction for defrauding the EU out of €600,000 of grants and then, in 2016, of "aggravated deception and the contravention of regulations of the cahier des charges" (this last contravention admittedly overturned the following year).
Even more damaging, in a sense, were attritional acts of violent sabotage, which included the cutting down of his vines and pouring chemicals into his well. Pasquet, for his part, was not averse to a somewhat antagonistic approach.
"Bordeaux went from the altars of the Gods, to the tables of kings, but now we see it on the counters of cafés and discounted on the shelves of supermarkets," Pasquet says. Partially true, maybe, but hardly diplomatic.
N'importe ! The wine has found a niche and clearly has backers; and now, presumably, has acquired a certain notoriety, which is self-perpetuating.
Only 500 bottles of the 2015 have been made and the wine is strictly allocated; Clément Robert MS, the head sommelier at Annabel's, has, for example, bought 11 bottles and is keen to ensure that at least one is available on the list of each of the venues of the ever-expanding Birley Empire.
Whether or not a product that presents itself as a model of natural and unadorned authenticity, should be showcased in such a palace of dripping gold, is another matter. (What was that quote in Macbeth about gilt and guilt?)
In sight of the holy grail
Pasquet is untroubled by such things; here we have a heroic mountebank who will not broach contradiction, a fisher king with the holy grail in his sights. Minor anomalies are unimportant.
When asked, for example, why he destems his grapes, which most certainly did not happen before 1855, he is unapologetic and talks vaguely about the virtue of progress. Progress has, at least, turned him away, to a greater or lesser degree, from new wood; after the 2015 vintage , the barriques have been gradually exiled in favor of 400-liter amphorae .
Sulfur dioxide is largely avoided, and the yeasts are, of course, natural. The harvests are late, there is triage in the vineyard, and manual sorting. As one would expect.
In the vineyard, a mule works the soil with a 150-year-old plow. The grapes are cultivated by sélection massale and are grown exclusively on pre-phylloxera ungrafted rootstocks.
There are 2ha (5 acres) in all, co-planted, and in addition to the grape varieties rehearsed above there is also the more familiar trio of Cabernet Sauvignon, Merlot, and Petit Verdot. Quite a tapestry of vines, in other words—just as it used to be! Just as it should be, if we trust Pasquet.
If … if … if … and if one finds the wine an acquired taste (no pain, no gain), there is also a fairly good chance that one will also be challenged by the aesthetic of the label, its motif borrowed, in a somewhat ersatz fashion, from Géricault's painting The Raft of the Medusa .
I seem to recall that that episode did not end particularly well, so can't quite fathom the subtext here. It is but one enigma of many that are circling around this extraordinary project.
"I am not a winemaker; I am a vigneron," says Pasquet, cryptic to the end.
Tasting Liber Pater
Matteo's, The Birley Wine Club, Annabel's, London; May 4, 2022
2015 Denarius by Liber Pater
A rather more traditional blend this: 75% Cabernet Sauvignon and 25% Merlot, aged for 24 months in new oak. In the topsy-turvy world of Liber Pater, it is the soi-disant entry-point wine that gets the expensive treatment! More recent manifestations are treated to a broader selection of the older grapes, it seems, and do not enjoy old oak. Fascinating, then, to see another, more conventional side to Liber Pater—and I have to say that it's rather good. Deep purple still; wonderful, refreshing, blackcurrant-bush aromatics, with hints of black cherry and smoke; firm tannins, as expected, starting to unravel, but with elegance and silky dexterity. A denarius, as I am sure you know, is an ancient Roman silver coin, which was originally worth ten asses. | 92
2015 Liber Pater
Liber Pater is now all about the ancient, rediscovered vines and aging in amphorae; one should not, however, forget that the 2015 is somewhat different, with new wood and Cabernet Sauvignon both still playing significant roles in the ensemble. Yet another inherent contradiction, as the reputation of the property has been built on a putative modus operandi that was not [CHECK] yet fully in place in 2015. Yet even here the minority shareholding of a smorgasbord of pre-phylloxera grapes has had a significant and, one may say, a fairly challenging, influence on the taste of the wine, adding distinct earthy, herbal, and almost resinous notes, volatility lurking in the wings. Woodsmoke, juniper, and hints of peat and iodine, the fruit still swathed in oak. Behind that there is dark chocolate, plum jam, and sousbois. Precisely what has been added to the ensemble by the inclusion of Castet and Tarnay Coulant et al it is hard to say … One can only be sure that this highly prized work is but a mere sketch of what is to come and thus, in a sense, does not fully capture the current philosophy of the house. There is inherent worth in great sketches, of course; think Dürer or Leonardo. Whether, however, this wine is worth its asking price, is another matter altogether. | 90