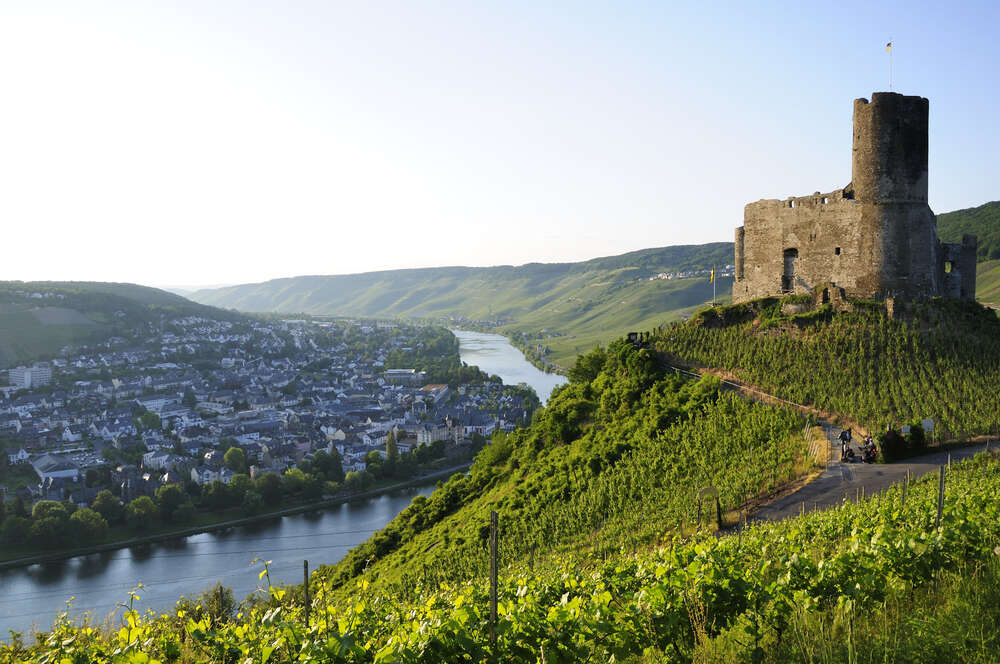 Anne Krebiehl MW reviews Moselwein by Karl Heinrich Koch, a late 19th-century paean to Mosel wine which has been published in English at last with supplementary notes and essays.
In 1897, German wine professional and writer Karl Heinrich Koch published a small book, amounting to a mere 50 pages, called Moselwein , conceived and written "in praise and exaltation" of the wines of the Mosel. This was translated by Lars Carlberg, Kevin Goldberg, Per Linder, and David Schildknecht and published in early 2022, amply supplemented by essays and notes.
Karl Heinrich Koch—no relation at all to Friedrich Wilhelm Koch, who wrote Die Weine im Gebiet der Mosel und Saar to accompany the famous vineyard map he published with Heinrich Stephanus—evidently felt the need to write this paean to Mosel wine. Why? Because at that time, Mosel wine was the height of fashion and yet misunderstood vis-à-vis the still more famous Rhine wines, which came with a far longer history and pedigree.
Koch opens by charting the shifted fortune of Mosel wine—its changed perception from cheapest wine to priced cru—within 30 years. He notes that Mosel wine had become "fashionable," so much so that it was served by the glass in Mainz wine bars. This is notable because Mainz itself is surrounded by the vineyards of Rheinhessen and is across the river from the Rheingau . Koch then provides a deft historic sweep of Mosel viticulture and proceeds to describe the region. In doing so, he emerges as an original, even contrary thinker.
He observes that wine is, essentially, ineffable—even though all of us scribblers are compelled to describe it anyway. Touché. Koch also commits a delicious heresy. He says that Riesling loses its essential nature to botrytis : "The vinification of botrytized grapes is undoubtedly at the expense of the grape's distinctive character.
Other highly valuable characteristics are achieved, but the actual Riesling character is lost." I find myself agreeing with him. Koch's essential point is that Mosel wines were and are unique, unlike anything else. He feels compelled to explain and defend them. In that respect, all we can say is, Plus ça change .
This new book comprises the translation, supplemented with a facsimile of the original German text, in Fraktur and with lovely illustrations by Anton Lewy—a complete joy. While it allows Germanophones to delight in Koch's turn of phrase, it also allows me to observe that the translation is careful and apt. Koch's more elaborate 19th-century German has been rendered into clear, contemporary American English, a decision for which the translators are to be commended.
Each of the four translators has also contributed further to the book. In his foreword, Schildknecht provides some historical background on the perception of Mosel Riesling in anglophone markets from the late 18th century onward. He also introduces a clever conceit; he imagines what Koch would think if he were confronted with Mosel wines today. Schildknecht writes that Koch "would be returning today to a reinvigorated region and its wines that would probably by turns astonish, delight, unsettle, and befuddle him." Schildknecht asserts that Koch would also be astonished by the sweetness of Mosel wines today, by the "usurpation" of the term Kabinett by Germany's 1971 wine law, the changed attitudes of the VDP , and changed ownership structures.
Schildknecht imagines that some of today's famous estate names would ring familiar to Koch, that the practice of attributing numerical scores to wine would leave Koch "scratching his head," and that he would deplore the abandoning of once-famous vineyards and applaud the restoration of others. He also notes that climate change would have thrown the author: "Koch's reaction would have been disbelief, even before coming to realize that, unimaginable as this would have been in his time, Mosel growers have not been compelled to harvest sugar-deficient or outright underripe grapes in the last 34 years." He concludes with the beautiful notion that "It would hearten if not amaze him to discover how many vines are still-productive veterans of his own time."
Detective work
In his introduction, Per Linder describes the genesis of the translation project, its long gestation period—which started in 2010 with co-translator Lars Carlberg's discovery of the original book in the library in Trier—and the detective work this discovery entailed. Linder also provides much information to put the data into context: nothing like knowing what a vineyard worker's, a schoolteacher's and a headmaster's monthly salaries were in German marks to understand how much fine wine cost in the day. Linder also provides a concise biography for Koch. Likewise, Carlberg's essay provides valuable context and detailed, well-researched background on winemaking in the Mosel. Goldberg's eloquent essay sets the book in its politico-historic context—sorely needed, since continental European history is rarely taught in English-speaking countries.
Above all, it is the detailed and ample notes that accompany the translated text that define this book. They display real depth of historic awareness and knowledge; they brim with information of an explanatory scope that go well beyond the usual remit of a footnote. Together with the essays, they render as complete a picture as possible of Mosel wine at the time. If there is one gripe, it is that the footnotes would be even more valuable if they referenced their sources.
The book itself shows the layers of historic detail and complexity that come with a real understanding of German and Mosel wine. It is this inherent complexity that explains the misunderstandings and confusion that often characterize any discussion of German wine and that have hindered it so much. This is not a book for your casual reader, this is for Riesling-loving history nuts who delight in understanding how things came to be as they are. If the book itself was Koch's love letter to the Mosel, its translation and putting it so brilliantly into context was these authors' labor of love.
Moselwein
Karl Heinrich Koch
Translated by Lars Carlberg, Kevin Goldberg, Per Linder, and David Schildknecht
Published by Dolman Scott
176 pages; $21; £17; €19