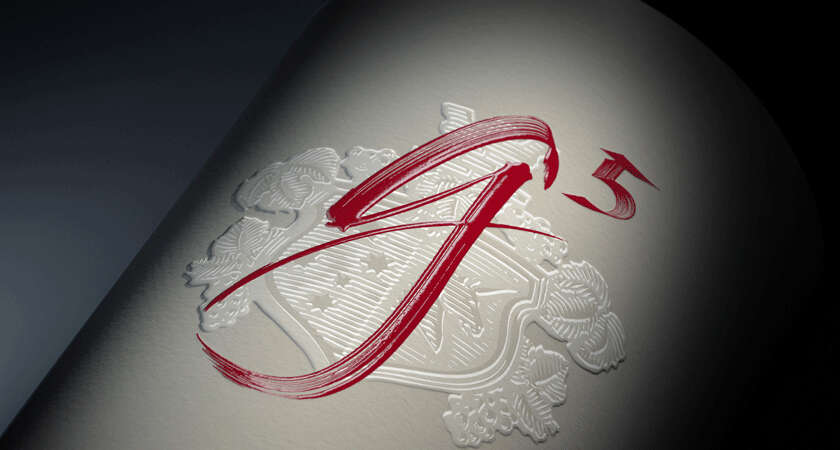 Ken Gargett has a privileged early taste of what may be, in more senses than one, the ultimate Australian red blend, Penfolds G5.
"A wine greater than the sums of its parts" is how Penfolds likes to describe G5, the latest and final release in its "G" series. To be brutally honest, if it is not ("greater than…"), then there is not much point in doing it. Far better that it did not deplete stocks of some of the very finest Granges.
G5 has just been released and Penfolds is taking expressions of interest on its website. Following on from G3 and G4, this concludes this trilogy. There won't be a G6 or any other. Those interested should move quickly. As with those preceding it, this is an extremely limited release—2,200 bottles in total.
G is for Grange
As with the previous releases, the G stands for Grange and the number is the number of vintages of Grange included in the blend. So, G3, released in 2017, was 1,200 bottles at AUS$3,000 each, a combination of the 2008, 2012, and 2014 vintages. Penfolds has never released the exact proportions—they don't want people trying this in their kitchens—but with G3 they did say that every vintage would contribute at least 10 percent. This has continued with both G4 and G5. G4, released 2020, was 2,500 bottles at AUS$3,500, a combination of 2002, 2004, 2008, and 2016.
The 2,200 bottles of G5 have an opening price of AUS$3,500 each (approximately US$2,630 / £1,920) each. It is a blend of 2010, 2012, 2014, 2016, and 2018. The 2016 and 2018 were in barrel when selected. The other earlier vintages came to the party via transversage, from the bottled Granges.
Looking at the G series as a whole, eight different vintages of Grange were used, with four vintages—2008, 2012, 2014, and 2016—appearing twice. What is fascinating to me is that not a single odd-year vintage made the cut. In a rather lovely moment of synchronicity, for G5, released in the 70th year of Grange, the first having been the experimental 1951, the vintages ('10, '12, '14, '16, and '18) add up to 70!
Barossa at heart
Peter Gago has done some calculations for us. Grange is, of course, one of the world's great Shiraz-based wines, but typically, a small proportion of Cabernet Sauvignon is included each vintage. Only a handful are 100% Shiraz. G5 includes 3% Cabernet Sauvignon. Grange is a multi-regional blend from South Australian vineyards. Barossa is always key and the G5 is 70% Barossa. The remainder is McLaren Vale and Clare Valley, with a tiny dollop of Wrattonbully, thanks to the 2014. After endless testing, which extended far beyond these five vintages, the wine was blended and then spent a year in neutral American oak hogsheads. Those hogsheads had originally been used for the 2016 and 2018 Granges. The G5 was bottled in April 2020.
Gago is very knowledgable and passionate about Champagne, and it is easy to imagine that the concept of a Multi-Vintage red came from his love of those great sparkling wines, but Penfolds has also has a very long tradition, as does so much of the Australian wine industry, of making fortified wines, which blend varieties, regions, and, of course, vintages.
A wonderful experience
So, greater than the sum? Undoubtedly a great wine and it is a wonderful experience to taste it. When the bottle was first opened, my immediate impression was that my ranking, based on my previous tastings of the other two wines, would be G4, G5, and, marginally behind, G3. After only a little time in the glass, however, the G5 was exhibiting just how special it is and claimed top spot. By the following day, the astonishingly dense, creamy, yet immaculately balanced texture had this in first place without question.
The wine is a dark maroon, and it does take some time to open up. But then… a glorious nose, very complex, with notes of dark berries, cocoa powder, sage, some oak in a slightly dusty sawdust way, cloves, rich chocolate cake, florals, and cassis. The structure is seamless—the vintages blend as though there were no variation in years. Powerful but perfectly balanced, with nascent elegance and already offering great refinement and sophistication. On the palate, the aromas are coated with new flavors—coffee bean, new leather, beef stock, soy, black fruits, and aniseed—and the finish has amazing length. More the Sean Connery version of 007 than, say, Jason Bourne or Hercule Poirot, if that makes sense. Having painted myself into a corner by giving the G4 the perfect score, I cannot give the G5 anything less and would give it more if I could. It deserves every point. 100