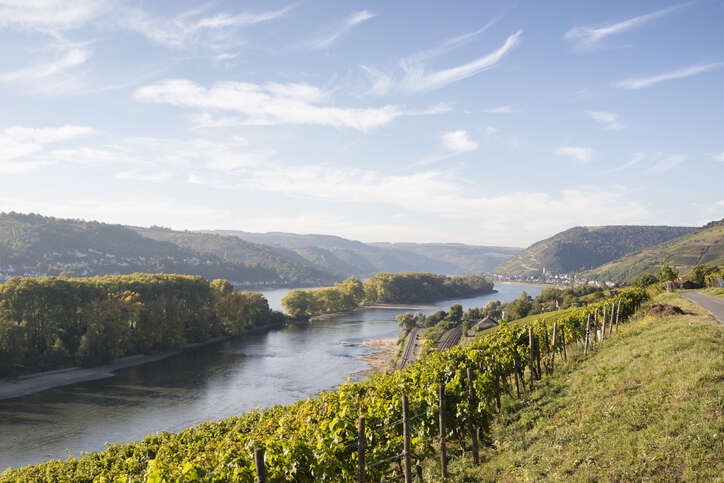 German wine-lovers don't always love Alsace Riesling, and vice versa, says Stephan Reinhardt. But a tasting of top single-site wines shared with Andrew Jefford and Anthony Rose illustrated the merits of both places.
For full coverage of this tasting, including detailed tasting notes on all 45 wines tasted by the panel, subscribe to The World of Fine Wine .
In this comparative blind tasting of Riesling from Alsace and Germany, not everything went according to plan. But in the end, it could hardly have turned out better. It is rare for all participants in a blind tasting to be equally and thoroughly happy when the results are revealed, but reading through the tasting notes for this one, it must surely rank as one of the most enjoyable and successful in the history of this title.
I suggested a blind tasting of Riesling from both sides of the Rhine because I want to start breaking down some of the clichés surrounding them. I am German but I love the wines, especially the Rieslings and Pinot Noirs, from Alsace. This profession of amour du vin has brought astonishment to faces on both sides of the great river. For one thing, the Germans are convinced that they produce the best Rieslings in the world—a conviction that appears to be shared by most Riesling lovers more widely, who hardly seem to know, let alone to appreciate, Rieslings from anywhere else. The boundless self-confidence of the German producers contrasts with the less sure manner of those in Alsace. This is not because of the absurdly common false supposition that "Alsace is dead"—which is at least as painful as it is wrong. Rather, it is because despite also having a Germanic past still evident today—not least in the grape varieties and the names of the villages and vineyards—Alsace producers are now more oriented toward Paris than toward Berlin. Moreover, Burgundy—or even the Loire—seems much closer than the other side of the Rhine when it comes to exchanging ideas about viticulture or winemaking. From both banks, the Rhine seems like an insurmountable, flowing wall.
Self-confidence tricks
"We Alsatians have little self-confidence because of our history, and we are still searching for our identity," André Ostertag once wrote to me (in English, because unlike his father and his son, he does not speak German). He probably hit the nail on the head there. In any case, Alsace winemakers are amazed whenever I, as a German wine critic and Riesling drinker, tell them how great I think their Rieslings are. They often hear the opposite in the markets. If I take German Rieslings to Alsace to taste (or drink) with local winemakers, they shudder—so much malic and sulfuric acid in wine is unheard of there. "Your Rieslings only taste good when they've been left to stand in the open bottle for five days," an Alsace producer, with whom I had tasted some of the finest dry German Rieslings, once told me. When I bring great Alsace Rieslings to Germany, I hear from icons of German Riesling that these wines are very heavy and solemn and don't "get off their asses" (pardon their German) at the end, so they hardly want to take a second sip, even when they recognize that the wines are very good. They're just not animating for them.
Breaking the Riesling impasse
In short, I am more or less alone on the right bank of the Rhine in my love of Alsace, while German Rieslings hardly reach the left bank. I wanted to break this impasse and to show the rest of the wine world that the two sides of the Rhine are not black or white but both full of color.
For this tasting, I began by compiling a wish-list of the finest single-vineyard Rieslings from Alsace (even if we didn't in the end get all the ones I wanted). And because most of my Alsace favorites are from biodynamic, or at least organic, producers—and also because I wanted to limit the number of samples, so that they could be tasted properly—organic production initially seemed a reasonable entry requirement for this tasting. But when I started on the German wish-list, I was reminded that producers there are far less "green" than many of their politicians, and that the number of great dry single-vineyard Rieslings from biodynamic producers would be too small. So, I broadened the tasting to include wines from non-organic producers as well. Excellent expression and class became my two overriding criteria for inclusion.
This expanded range was not communicated, however, to my two fellow tasters in London—at least partly because I was unable to be with them there due to the coronavirus restrictions [and partly because of a misunderstanding on the part of the editor, for which many apologies; ED]. They therefore tasted under the impression that all of the wines were biodynamic, even if their chief considerations remained the quality of the wines and, to a lesser extent, their identity as originating from one side of the Rhine or the other (which they were asked to posit at the end of each tasting note). I was able to taste most of the same wines, at a slightly later date, near Hamburg in Germany—also blind and in the same order as in London, though a few wines were tasted only on one occasion or the other (as specified in the tasting notes ).
Hopes, not expectations, met
I had proposed a tasting order based not on alcohol or on residual sugar, but rather on soil type, in the hope that they would be comparable within the flights. A key objective was to discover whether the German way of producing Riesling clearly differs from the French, and whether German Rieslings should be considered as generally superior to those from Alsace, as is often supposed. I also hoped that, although we were tasting great dry single-vineyard Rieslings from the Rhine (along with tributaries such as the Mosel and the Nahe), any discernible differences in taste would be attributable at most to cultural borders, not to national ones; that it would be a jeu sans frontières. It may be broadly correct that German winemakers generally harvest their dry Rieslings "clean" (i.e. without botrytis), that they rack the wines, whether fermented with wild or with cultured yeasts, off the lees earlier, and that they bottle them with higher amounts of sulfur dioxide, than their colleagues in Alsace do; also that they either do not have to fear malolactic fermentation (due to lower pH values, for example) or else reduce the risk by blocking it with early sulfur additions. But all such generalizations are little help in a tasting like this—because on each side of the Rhine, leading producers have very different philosophies and practices, and produce very different wines, from their equally competent neighbors on the same side. The only crucial considerations for us as blind tasters were, first and foremost, the quality of the wines; and second, whether we could assign a German or a French identity to them in taste terms. And if we could, what attributes we used to make those identifications. What expectations would the wines meet or confound?
Joy and relief
It was both a joy and a relief for me to read our notes and to study our findings. Rieslings attributed to Alsace are associated with word-fields such as deep or intense color, complexity, fruit opulence, melt, sensuality, spice, vinosity, and gastronomic potential. By contrast, German Rieslings were expected to be rather lighter in color, more reductive, to show a distinctive racy acidity as well as more youthful fruit, and to be dry, spicy, and energetic on the finish. All of which meant that we identified the wines correctly only 50 to 60 percent of the time—which is no reflection on the experience or expertise of the panel: quite the opposite, I would say! Even at this level of expressiveness and sheer wine quality, it is very difficult to identify the origin of the wines based on stereotypical taste profiles.
Typological boundaries and transitions are fluid on both sides of the Rhine, and we find Romanesque Rieslings in Germany, as well as Teutonic Rieslings in Alsace. It will probably be some time before we wine lovers leave our stereotypical notions behind and recognize great wines purely by their class rather than by their nationality. But if this tasting helps at all with that, it will have served a large part of its purpose.
As for quality rather than originating style: Here, too, there was no significant difference from one side of the river to the other, the average score for the Alsace wines being 91.5 (which at WFW would normally be rounded up to 92), while for the German wines it was 92. Scores were consistently high on both sides, half the wines averaging 92 or 93, and only one wine averaging less than 90 (89, dragged down by one low score of 84, while the other two scores were 91 and 93+). We had many fewer Alsace wines, and yet all three tasters had at least one in their top five (one had two), and one taster had an Alsace wine as his top wine. At this high level, the supposed quality difference from one side of the Rhine to the other is the greatest myth that we will hope to have exposed a little here.
The Top 5: The Best of Alsace and German Riesling
Philipp Kuhn Schwarzer Herrgott Riesling GG Pfalz Germany 2019 (13% ABV)
AJ: Bright pale lemon-gold. Very pure creamy lime. Not a multi-dimensioned aroma, but terrifically good and very attractive. There is a little of the finest grass (I mean lawns not cannabis) you can imagine, very sweet and spring-perfect. Tangerine peel and tobacco leaf behind: grand complexity, in other words. A splendid fresh firework of fruit in the mouth, filling your aromatic sky with dripping lime and peach and nectarine and milled apple peels. There is just so much strength of fruit here that you know that it must be a very special site and a gifted viticulturalist/winemaker. Driving and long and fine; vinous. Dauntingly good. | 96
SR: This intensely yellow colored Riesling opens with a clear, intense, and complex, lovely, fresh, and aromatic bouquet with immediately attractively flinty notes of crushed limestone, lemon juice, milk, and oat flakes. Silky-crystalline and with a stringent acid structure, this is a
round and intense, mouthfilling, and remarkably finessed Riesling, with an enormously long and salty finish. In short, this is a great, substantial, and age-worthy Riesling of great complexity. 2021–50. | 95
AR: Pale lemon and lime in color. The aromas of this wine express citrus and sweet capsicum in equal measure and behind them a faint whiff of… er… yes, Riesling; there's an appealing light spritz on the tongue to bring an immediate hint of freshness, and the fruit itself, largely citrussy but with some stone fruit, too, is ripe and richly concentrated, energetic in its intensity of flavor and saline, dry finish. | 95
Weingut Clemens Busch Pünderich Marienburg Riesling Trocken GG Raffes Mosel Germany 2019 (13% ABV)
AJ: Bright, pale silver-gold. Articulate, forthcoming aromas: subtle fruits and sweet dough beneath: very pure and pristine, and an absolutely classic northern Riesling in its grace and restraint (as opposed to Southern Hemisphere styles). Lots of doughy charm inviting you into the glass. In the mouth, it is grassy and full-flavored, dry, aromatically expansive, with lots of wealth and depth. It has structure and line, too. The doughiness and grassiness suggest Germany. Other wines are perhaps "stonier" than this, but peel away the fruits and you might well find that character, too. Excellent. | 94
SR: This is a fascinating, deep, pure yet also rich and spicy-mineral Riesling, with a coolish yet generous, complex, and elegant soul, as well as ripe and stewed mirabelle aromas. Full-bodied, intense, and salty from start to finish, this is a pure, highly finessed and elegant yet also intense and sustainable dry, energetic Riesling, with fine phenolics and a lingering salty acidity. This fascinating Riesling combines a warm climate with a cool and deep terroir. Although this impressive wine already tastes beautiful, it can also age for at least 20 years. 2021–45. | 95
AR: Pale lemon in color, this wine has a sweetness of aroma reminiscent of ripe, even cooked, pineapple, and something savory in there, too. Behind the slight prickle on the tongue, there's a ripe, pineappley wine that's full-bodied and full-flavored, sharing twin structural components of clean acidity and a lightly salty underpinning, all of which makes it an attractively rich yet dry lipsmacker. | 93
Peter Jakob Kühn Oestricher Doosberg Riesling Trocken Germany Rheingau 2019 (12.5% ABV)
AJ: Pale, bright mid-gold. Fresh, pure, and invigorating, with a kind of lavender finesse to the apple, lemon, and white-nectarine fruit. Downy vanilla, too. Lovely aromas. Exciting, primary, and alive: zesty and dry flavors packed with spattered apple, squeezed lemon, and (metaphorically speaking) broken stone. Super-zesty, zippy, palate-interrogating Riesling; shockingly good. Is the lemon almost overdone? Maybe; but I'd love to sit down with it over an hour or two and find out. | 93
SR: Fascinating, clear colors and flavors open this pure and flinty Riesling, which shines as bright as the Holy Grail and smells like wet stones and crushed slate. The fruit is clear, precise, intense, and intertwined with flinty notes. On the palate, this is a full-bodied, complex, tense, very mineral but also juicy and intense dry Riesling, with remarkable harmony and this salty, sharp purity on the finish that reminds me of quartzite and a deep, cold terroir. Very long. 2021–45. | 94
AR: Light lemon in color, this is fresh, floral, and piquant, with a slight smokiness in its fragrance, a light spritz on the tongue, and a salty streak underlying an appealing citrussy freshness of fruit, bringing a mouthwatering dry tang to the fruit, which is crisp, dry, and elegantly balanced. | 94
Weingut Robert Weil Kiedrich Gräfenberg Riesling Trocken
GG Rheingau Germany 2019 (13% ABV)
AJ: Bright steel-gold, and the first wine since the first flight with pearls of gas on the glass. Warm, sweet, doughy, with crème anglaise sweetness: very soft, becoming, and attractive. Lots of felted intricacy here: flowers, sweet fruits, clean washing, and fresh cream. On the palate, this is a wine of wonderful zest and mineral-salty excitement: stunning precision and definition, and impressively controlled richness, too, and the peach just peeps out from behind the apple, and the apricot waves over the top of the pear. Fresh yet rich, weighty yet light as only Germany can be. (Or not!) Another absolute stunner, anyway, and hats off to whoever is behind it. | 96
SR: Very bright in color, this Riesling opens clear, pure, and fresh on the still-young, thus very aromatic, nose that still throws primary fruit aromas out of the glass. Tight and grippy on the palate, this is a well-made, salty, and slightly phenolic Riesling, with a ripe fruit and some oaky notes. I have a sense that the producer could trust even more fully in the greatness of the terroir here, which might make the wine even more fascinating. But all the same, this is very good wine. 2021–38. | 92
AR: A very pale lemon in color, this smells fresh and florally fragrant, there's a refreshing prickle on the tongue helping to maintain the freshness behind a wine of juicy, rich, layered texture, underpinned by a gentle mineral-salts streak and finishing lively and tangily dry on the tongue in an elegant flourish. | 93
Domaine Weinbach Alsace Grand Cru Schlossberg Riesling Cuvée Ste Catherine Alsace France 2018 (14% ABV)
AJ: Bright green-gold with silver glints. Clean, fresh, and rinsed: lanolin and sweet linen among the apples and lemons. Lots of lift and aerial purity, but the lanolin/linen note has a creamy freshness of its own, a kind of Pessac-Léognan recollection that lends depth and grace to this fine Riesling. Rich, full, sumptuous, lashing of cream to nap the fruits: Gosh, this is good. Absolutely spotless and high-focus, yet very giving, too:
a long, fine season turned into palate music by a genius grape variety. Fruits and cream are really the core of its appeal, and it's a wine with enough depth and intricacy to give you half an hour or more in teasing out allusions. This really could be either Germany (fruit purity) or Alsace (wealth and cream); inspired viticulture and winemaking, anyway. | 95
SR: This is an intensely flavored, pretty, floral (elderflower) but also candy-like scented Riesling, with a pure mineral elegance on the background that reveals crushed-stone aromas. Round and juicy on the palate, this is a full-bodied, rich, and generous, quite creamy textured and finely tannic Riesling, with a tight and intense yet still slightly clumsy finish. Still not ready to sing. 2025–45. | 93
AR: Pale lemon in color, this shows a hint of citrus and banana in its aromatic profile, a faint prickle, and it's opulently full-bodied, with an appealing intensity of palate-coating citrus fruitiness, sustained by an incisive blade of fresh acidity and light saltiness, rendering this seamlessly elegant Riesling appetizingly fresh and dry. | 94